ATF '07

Sunday, September 30, 2007
We just got back from Acquire the Fire in Amherst,MA. We took four teens from our church down for a weekend of worship, concerts, and skits. It was AMAZING!
More on that soon... i'm working on 4 hours of sleep.
posted by Amanda Wheeler @ 9/30/2007 06:11:00 PM, ,


Andy called me from work today with this story from
Fox News
:
Jenna Bush Discusses Engagement, New Book
. Now, I know many people are not big fans of The Bush's, but well, we are.
I was however, in my scrapbooking room right in the middle of finishing a bulletin board for the Operation Christmas Child display at church. I wasn't really interested in getting up to read it. But he insisted, and look what I found:
Henry (her fiance/boyfriend/whatever) proposed after rousing her at 4 a.m. to go hiking on Cadillac Mountain in Acadia National Park in Maine.
Hmmm... that sounds awfully familiar. Why? Because that's
exactly
how we got engaged!
Literally
. Ok, well the only difference is we didn't
hike
up the mountain at 4 am. We drove. I think the unoffical rule is 1-carat or under you can drive, over 1-carat you have to hike.
I wonder if they went to Jordan's Pancake house for blueberry pancakes after. We sure did.
early morning
July 8, 2002
posted by Amanda Wheeler @ 9/27/2007 02:55:00 PM, ,


Barrroooooooh

Friday, September 21, 2007
I took Molly to the vet this morning for some routine blood work. They test all dogs once a year for heart worm and Molly's time had come. (Why do they test for heart worm, when once a month we give her
Heartguard
- a preventative
chewie
...I don't know - more $$$ perhaps?)
Usually Molly loves going to the vet and this morning was no exception. After breakfast this morning I put on her pink polka-dot bandanna, which to her means "Whoa...I'm Going Somewhere...Where Will It Be!!!!!?) She was thrilled when I pulled into Animal Medical Associates. She sniffed the perimeter and then gave me the nod it was time to go inside. She played with a Schnauzer in the waiting room and ran to me when a big male Mastiff came trotting through the door. Everything was going great until they called her name. She ran to the vet and then quickly put her breaks on. "Ugh. Yeah I remember you. You poked me in my bottom with a sharp thing last year. Yeah. I'm good." I could not control her she was shaking so bad and howling, like only Bassets can do. It was SO embarrassing. Two vet techs had to carry all 58.2 lbs of her into the room. She was shaking so badly, and drooling profusely. When I got near her she would try to leap off the table so I could carry her. It was heartbreaking.
I finally got her calmed down through a series of treats (one-after-another) and rubbing her back. After 15 minutes of this the Doctor was able to draw blood from her little arm. Everyone in the building knew when that happened because she howled like a
banche
when the needle was inserted. Again, so embarrassed.
I felt so guilty I bought her a new stuffed
seahorse squeaky toy
and an "
everlasting" treat
.
"Everlasting" apparently means 10 minutes.
Exhausted
from her ordeal, Molly is sleeping in her bed with
her seahorse
.
posted by Amanda Wheeler @ 9/21/2007 09:26:00 AM, ,


Oh how fun!

Friday, September 14, 2007
Andy and Amanda as cartoons!
posted by Amanda Wheeler @ 9/14/2007 10:00:00 AM, ,


Regurgitation

Sunday, September 09, 2007
:: I've been kept very bust these past few weeks with work and ministry stuff. It's impossible to find time to update a blog!

:: My birthday was good. Andy took me to the Macaroni grill, my favorite. We also took a long one of the youths from church. She was the only one who showed up for youth group on Friday (HS football game, we can't compete). Andy also made me a cake! Not just any cake either. He added pudding to the batter and it came out thick and fudgy and delicious! He's so cool.

Andy and I at Macaroni Grill
Mushroom Raviolli


Theresa


Andy and the cake he made all by himself!
:: Saturday we ran around all day and did errands. I also spent the better part of morning making THIS with this while Andy played video games.
:: Sunday was the Ministry Fair at church. I spent all week last week organizing it! Lot's and lot's of work, but totally worth it. Our friends Aric and Lorissa came over after church to eat pizza and watch the kick-off game for the Patriots. Rah-rah go Pats. Lorissa and I quickly retired upstairs to watch HGTV.
:: Tonight was also the first night of Every Young Woman's Battle. It went really, really well. I was nervous because we are talking about rather sensitive subjects with teenage girls...but overall it went great. Lorissa (who is co-teaching) made a heart shaped cake and have a real visual illustration about how we can give pieces of our heart away by kissing, or having sex before marriage...and then be left with half-a-heart, or worse 1/3. :) The kids were dead silent, which was in stark contrast to the rest of the class, so I think it really hit home. I hope so!
:: Ok, off to bed. Well first laundry...then bed.
posted by Amanda Wheeler @ 9/09/2007 07:49:00 PM, ,


Vingt-huit

Friday, September 07, 2007
28....its sounds better in French right?
posted by Amanda Wheeler @ 9/07/2007 01:31:00 PM, ,


UPDATE: I'm not sure why you'd be interested in the play-by-play of our day, but I thought I would share...
Andy
decided
to help (well after my meltdown, but we won't speak of that).
-Laundry is *mostly* done.
-All dishes are done
-floors have been vacuumed
-The mop bucket is waiting in the kitchen.
-Dinner has been cooked and eaten (BBQ chicken, corn, mashed potatoes).
-1 bathroom is spotless.
-1 trip was taken to the grocery store by DH (out of brown sugar).
-Apple crisp (WW!) has been made (for homegroup tomorrow night).
1/2 cup all-purpose flour
1/4 cup sugar
1/4 cup packed light brown sugar
1/4 cup butter, chilled and cut into small pieces
7 medium Granny Smith apple(s), peeled and sliced
1/3 cup apple cider
2 Tbsp sugar
1 Tbsp fresh lemon juice
1 Tbsp all-purpose flour
1 tsp ground cinnamon
1 sprays cooking spray
Instructions
Preheat oven to 375°F.
Combine first four ingredients in a blender or food processor; pulse four times or until crumbly. Set aside. Combine apple and next five ingredients in a large bowl; toss gently to combine. Spoon apple mixture into an 8-inch square baking dish coated with cooking spray; sprinkle with crumb mixture. Bake at 375°F for 40 minutes or until lightly browned. Serve warm. Yield: 8 servings (serving size: 3⁄4 cup).
-----------------------------------------------------------------------------------------------
Laundry is *in process* in the basement.
*Some* dishes have been washed.
Two bathrooms desperately need to be cleaned.
One dinner needs to be cooked.
And yet....you will find me in my scrapbooking room. Andy gave me an early birthday present (Sept. 7th if your interested - send cards and gifts) this weekend and I LOVE it.
The Cricut
. A personal die cutting machine. What more could a girl ask for?
I've been on a scrapbooking hiatus since around February. We've had way too much going on with youth group and church to even think about scraping anything. And this summer was WAY too hot to be stuck inside. I'm happy to report though, that i'm back! Fall is here and I couldn't be more happy.
Ok...off to make dinner.
posted by Amanda Wheeler @ 9/03/2007 04:13:00 PM, ,


Last night I found myself sitting on wooden bleachers surrounded by people waving black and white checkered flags and gorging on fried food. This isn't typically the kind of atmosphere I frequent, although I do have some practice having grown up in the
North Country.
I did my best to avoid "the races" for almost 28 years however.
Until last night.
Cars speed around the track with brightly painted sayings on them. Many painted to look like cartoon characters. My favorite was My Little Pony. I never thought to wonder what one would do with an old, beat up 1985 Dodge Shadow. Cleary the answer is to staple your child's old rocking horse to the roof and go drag racing around a 1/3 mile track. Duh. I'm so out of the loop. Literally.
The kids from our youth group had a great time. And, if I'm honest... I did too. I did not however like it when the cars flipped over. Surely that can't be safe? Even so, the crowds cheered the loudest when the cars crashed and rolled.
Andy, Theresa and Brett
Ellie and I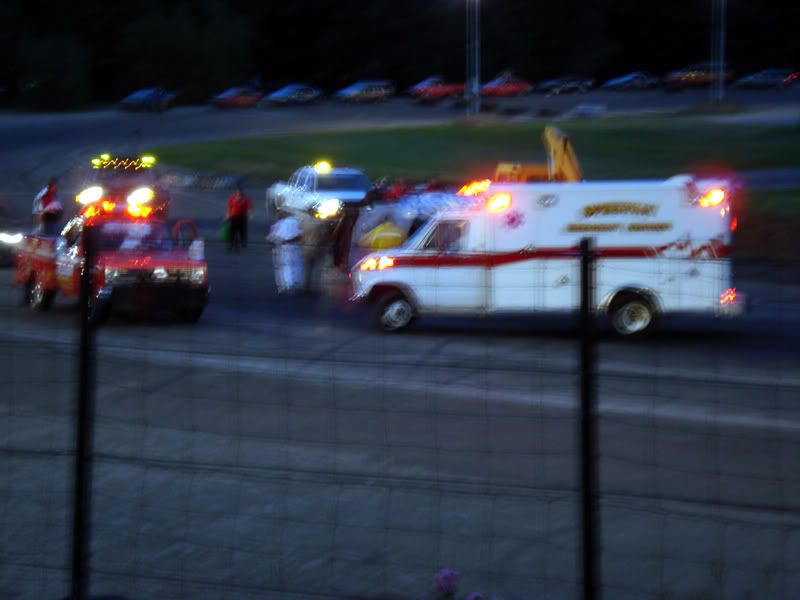 Crash scene
posted by Amanda Wheeler @ 9/01/2007 02:12:00 PM, ,