My mom called the other night and asked if I could help her book a plane ticket to Georgia to visit my sister. She was having an "
awful
time". Within seconds I pulled up Cheaptickets.com.
Mom: Wait, already?
Me: Yes, mom. The rest of the world has high speed internet.
Mom: Hmm, I didn't know it would be that fast! (for the record the poor lady still uses dial up....FREE dial up at that).
Me: Ok Mom, give me your info and I'll get your ticket all set. We can even pick out your seat!
Mom: Gives information. Then gives out desired seat preference. Changes mind. "I would like to sit three rows back on the right - near the window. No. The isle. "
Me: OK. That's from here to here on Tuesday at 6am and your sitting three rows back on the right, isle. Sound good?
Mom: Oh thanks Mandy (no, it's never ok to call me that unless you're my Mother). Send it over.
Me: I'll sent it right over.
Mom: It's still not here.
Me: Be patient. I just sent it.
Mom: Where does it come out? Does it come out this thingy?
Me: Mom, the actual ticket doesn't come out of your machine. I sent you a confirmation to your e-mail.
Mom: Oh. I don't want to do it if I don't get the ticket.
Me: Hangs up. (Not really, but I did want to beat my head on my desk).
posted by Amanda Wheeler @ 1/30/2008 06:21:00 PM, ,


Blogger VK

Monday, January 28, 2008
I've been on a vacation from blogging. Not intentional of course...it just happened. It? Life.
Things at the Wheeler household are a little well, messy. Andy
still
hasn't unpacked his suitcase from his trip to London last week. Laundry is piled as high as the ceiling. Consequently I'm on my last pair of socks. Dishes are clean in the dishwasher, but more dirty ones are waiting patiently on the counter. The kitchen floor is muddy. Carpets need to be vacuumed. There just isn't enough time to get it all done.
Thursday night and all day on Friday we were at church or running errands to prepare for the Youth Group Lock-In. We were wiped out before the thing even began! It was awesome though and the kids loved it. Pics?:
Here.
We played Rock Band, X-box, Hoops, darts, Foose Ball, Board Games, etc. etc. from 7pm on Friday 'till 7am on Saturday. Then came the worst part...clean-up.
The Pastors made us all breakfast and we were home by 10am. Andy and I feel instantly asleep. I on the couch with the dog, and Andy upstairs (one of us has to stay downstairs or Molly will HOWL - this only happens when we try to sleep during the day. Night is fine - she's weird). We slept until about 4pm and then Andy got sick. Really, really sick. Several times. Ick. Needless to say - the bathrooms are spotless.
I never got sick, but I was so very sore. I (sort of?) got into an accident on Friday. Its hard to explain, but basically I was stopped at a light waiting to take a left hand turn. The car ahead of me accelerated when it turned green, but she didn't see this HUGE dump truck barreling through the red light in the other direction. Ugh. Needless to say the truck hit her (t-boned her) and then the dump truck started to roll toward ME.
AHHHHHHHHHHHHHHHHHHHHHHHHHHHHH. I quickly threw my car in reverse (without looking btw) and flew backward into a snow bank. Luckily no one was behind me. The dump truck rested about 4inches from my car. Had I not moved back....well....I don't want to think about that. God truly protected me on Friday. Anyone who knows me knows that I have horrible reflexes - and this all happened in seconds.
Anywho, I left unharmed. Our car didn't have a scratch on it. Praise God! I do think I got a little whip lash. I can still barely move my neck from side to side without screaming in pain. I'm thankful that's all I have to deal with though.
I still don't know the status of the women in the car ahead of me. I know she was hurt badly, but I can't seem to get any info yet. Please pray for her and her family if you think of it.
posted by Amanda Wheeler @ 1/28/2008 11:33:00 AM, ,


I downloaded the free trial of MS Publisher 2007 at work yesterday. I wanted to try it out before I request to purchase the upgrade for our system at church. What a nightmare.
The main reason I downloaded the free trial is to see how the new version converts docs into
PDF's
- though unfortunately you can't even try it on the trial version. What a waste of time! Since it didn't do what I was hoping I
uninstalled
the program to free up space on my hard drive. This is where the nightmare begins....
It
uninstalls
fine. However, now my e-mail, excel, word and publisher programs don't work! When I
uninstalled
the trial it messed up every other office program I have. I tried to use the install disc to repair it, but it won't even recognize it. I'm picking up Andy during his lunch break today to see if he can fix it. He can fix anything!!! Well, here's hoping!
. . . . . . . . . . . . . . .
Computer drama aside... we have a really full week ahead.
Tomorrow I am ordering my
MOH

dress
(but in blue) for
Erin's wedding
!
That reminds me...nothing but rice cakes until August :)
I've also been working on scanning in photos for her wedding
slideshow
all week. She needs the hard copies back ASAP so she can scrapbook them. I forgot how long it takes to scan individual photos! Many I have to touch up in
photoshop
as well because they're from the 80's. It's been hard to convince her that
600+ pics
of her and her future husband just might be too many for people to watch without them getting the urge to bludgeon out their eyes with a salad fork. Hopefully she'll come around soon.
Andy and I have been trying to come up with creative ideas for Friday's Youth Group Lock-In. It's so hard to plan when you don't know how many teens are coming! Anyone have any good Lock-In ideas???
I dream of making things like
this
.
Or this
.
Or this.
Next week we start a new study at church -
Laugh Your Way to A Better Marriage
. They played a few video clips in church and it looks
hilarious
. The speaker highlights the many (
many!!)
differences between men and women and what happens when you put them together (marriage). It should be fun!
posted by Amanda Wheeler @ 1/22/2008 10:25:00 AM, ,


Tagged

Sunday, January 20, 2008
I've been tagged.
Seven random things about me.
1. I never leave the house with my hair in a ponytail, but the second I get home I put it up.
2. I could spend hours and hours day dreaming. In fact, I usually fall asleep that way.
3. I love to buy socks, but I rarely wear them. I love to go barefoot.
4. I'm allergic to all fish and seafood. This has become more and more of a problem living in Maine b/c I have to make sure food it not prepared on the same surface every time we go out to eat.
5. I always drive at least 5 miles below the speed limit.
6. When Andy was in London last week, and we had a snow day on Monday I stayed in my pajamas the entire day and watched
Anne
(they played all three movies on the disney channel).
7. I've been watching more and more football as the years go on (and the Patriots keep winning). I'm actually starting to like it. Don't tell Andy that though.
I'm going to tag:
Kelly
,
Linda,
Angela
and
Katie
.
posted by Amanda Wheeler @ 1/20/2008 02:58:00 PM, ,


4am: Woke up. The power went out. Unsure why.
8:05: Woke up again. Late. We forgot to reset the clocks.
8:30-9:30: Made Andy breakfast and lunch, drove Andy to-and-from work, ate breakfast (WW cereal, banana, milk), and assembled
turkey chili
and threw it in the crockpot for dinner.
9:30-10:30: Switched the laundry, worked out on the treadmill and watched disk three of Beth Moore's
Living Beyond Yourself
. The topic was Love disguised as rejection. Oye.
10:30-11:00: Shower, general cleap up.
Still left to do:
Work on sisters wedding video (we are doing a collage of pictures and such).
Prepare preschool lesson for Sunday
Go to Sam's Club
Make a decision on what to do about Youth Group tonight. It's raining and cold and we are suppose to be going tubing. For some reason tubing in the rain sounds less than fun to me.
Put new sheets on our bed. I love new sheets!
Generally clean the whole house.
More laundry
Quiet time (hmm...why is this on the bottom of the list?)
posted by Amanda Wheeler @ 1/18/2008 11:03:00 AM, ,


I've never been too hot about horses, but I think this is so funny.
http://thepioneerwoman.com/2008/01/miss_mustang_2008.html
posted by Amanda Wheeler @ 1/15/2008 01:37:00 PM, ,


in his homeland.
I love technology. Andy uploaded these pictures today so I could see them. We got a chance to talk three times today which was nice. The last time he went our old cell phone didn't work at all, so we didn't talk for five days which was horrible.
Things are going well. All of his meetings today went good, so he was in really good spirits. Tired, oh so tired but good.
Wednesday can't come soon enough for me though.
posted by Amanda Wheeler @ 1/14/2008 06:30:00 PM, ,


It's another snow day and I'm trying my best to keep busy.

81%

Mitt Romney


80%

John McCain


79%

Fred Thompson


74%

Mike Huckabee


65%

Tom Tancredo


64%

Ron Paul


51%

Rudy Giuliani


38%

Bill Richardson


30%

Hillary Clinton


28%

Barack Obama


28%

Joe Biden


27%

John Edwards


25%

Chris Dodd


21%

Mike Gravel


14%

Dennis Kucinich


2008 Presidential Candidate Matching Quiz

About right, except i'm not a big fan of McCain

posted by Amanda Wheeler @ 1/14/2008 02:41:00 PM, ,


I can't sleep. He's gone. I dropped him off at the bus station at 3pm.
He's in the air now. I look very forward to his call at 3am telling me he landed safely and to get some sleep.
Of course, there is nothing on TV.
30 minutes ago the phone rang. Which is rather unusual at midnight. Hot prickles ran up my spine, but it was only my sister Erin. I forgot I told her to call me when she got in tonight. She and Frank (her fiance) just landed in Syracuse. They were somewhere off the coast of CA this past week on a cruise. That sounds nice right now, especially with the Nor'easter on the way tomorrow. I'm so sick of snow.
My friend Danielle came over this evening to spend some time with me (distract). We had a great time. I made homemade turkey soup, bread from the bread machine and cheesecake! It reminded me of a meal my Mom would make when I was a kid. She loves turkey soup and we always had homemade bread never boughten. I appreciate that now.
So anyway, Danielle and I watched The Nanny Diaries tonight. It was great. The book was better, but the movie is still good. I think this was my third time watching it. I have to stay that it really is based on truth. The summer of '99 i nannied in Greenwich, CT. 6 year olds with cell phones and large bank accounts, absent parents, the whole nine yards...all true.
posted by Amanda Wheeler @ 1/14/2008 12:43:00 AM, ,


Pictures post extraction. Thrilled, aren't you?
(Squishy, Puffy Cheeks)
I'm doing much better these days. Pain is mostly gone. It's more annoying to eat than anything because things get stuck in the placed where teeth
used to
be (I miss you teeth). Very good for the New Years resolution though. It's easy to lose when you only eat jello and mashed potatoes. Hmmm...maybe I could start a new diet fad and make millions.
Do you realize how many
flavors of Jell-o
there actually are? I do! Because not only have I been eating it for seven straight days, but I also have time to Google things like "
Kinds of Jell-o
", "
The History of Jell-o
?", "
Jell-o Museum
" and of course, "
Jell-o recipes
" because I get up in the middle of the night in pain. The places where my teeth
used to
be have tiny little heart beats that throb. All. Night. Long.
My beloved is off to London, England for work for 5 WHOLE DAYS. I'm all in a tither. I hate, hate, hate to be away from him. This is only the
second time
in our 5 years of marriage we've been away from each other. Molly and I will be sitting in the front window awaiting his return. She will be equally distraught after I return from the bus station tomorrow sans "Daddy".
Tonight however he is here, and the Patriots are on. Yippee.
(Ignore the stuff on the floor. I'm trying to spend as much time with him as possible before he goes. I'm putting off cleaning until later. Yeah....that's it :)
posted by Amanda Wheeler @ 1/12/2008 09:48:00 PM, ,


I'm here. Mostly alive.
I got my wisdom teeth out on Monday. It was unpleasant as expected, but not as unpleasant as the
dry socket
I developed. Ouch.
I've been eating mashed potatoes and yogurt for 5 days now. I'd really like a steak.
More soon............including some great pictures of myself as a chipmunk.
I know your all waiting with baited breath.
posted by Amanda Wheeler @ 1/11/2008 08:58:00 AM, ,


Focus

Sunday, January 06, 2008
This is really all i've been doing for past few days:
MORE HERE!
posted by Amanda Wheeler @ 1/06/2008 05:28:00 PM, ,


I love Beth

Friday, January 04, 2008
Moore and I love this devotional.
It was a gift from Andy this past Christmas.
Excerpt from today:
There will be times of security for you-a storehouse of

salvation

, wisdom, and knowledge. -Isaiah 33:6


Obedient lives flow from obedient days, and victorious lives flow from victorious days. Likewise, constructive lives flow from constructive days, built on the sure foundation of Jesus Christ.
When was the last time you felt everything in your life was quaking except your stability in Christ? I love the thought of God's being our stability, don't you? Words to a familiar hymn ring in my soul: "On Christ the Solid Rock, I stand / All other ground is sinking sand." God's benefits include the daily
treasures
of His strength and a sure foundation.
Well I feel encouraged. Great was to start the day!
I'm doing more glorious puddering today. Cleaning this and that, scrapbooking, organizing stuff, making bread, laundry, etc.
We have a quiet weekend ahead too. Things have started to calm down from the holidays and I'm so glad! All of our decorations are down and have been packed neatly (by me) and put up in the attic for next year. We don't have youth group tonight either. We took a little break over the holidays to regroup and start planning the next six months. We are going to be busy!
Have a great weekend!
posted by Amanda Wheeler @ 1/04/2008 12:50:00 PM, ,


Crafty

Wednesday, January 02, 2008
I'm making good use of my
scrapbooking
room. I made two new cards tonight. Aren't they cute? I'm
finally
getting around to sending thank yous out for Christmas gifts. I'm so bad at that.
While I was in the basement tonight, waiting for Andy to get off the computer so I could order
THIS
(at 40% off! with code BOOKSTORE) I took some new pictures of Molly. Oh the life she does lead. Napping from one room to another. Very tough life indeed.
Trying to get comfortable on
concrete
can be tricky.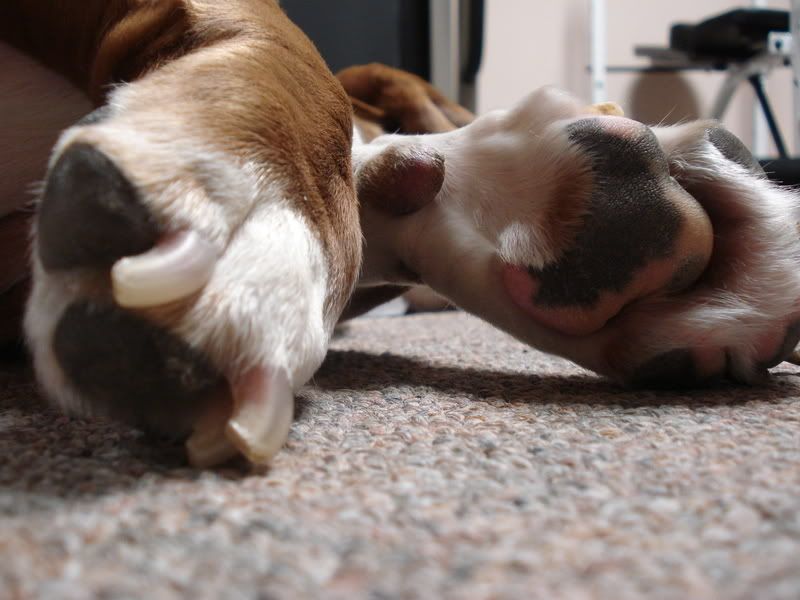 Pawsies
"If you must take photos of me, at least have the
decency
to turn the flash off!"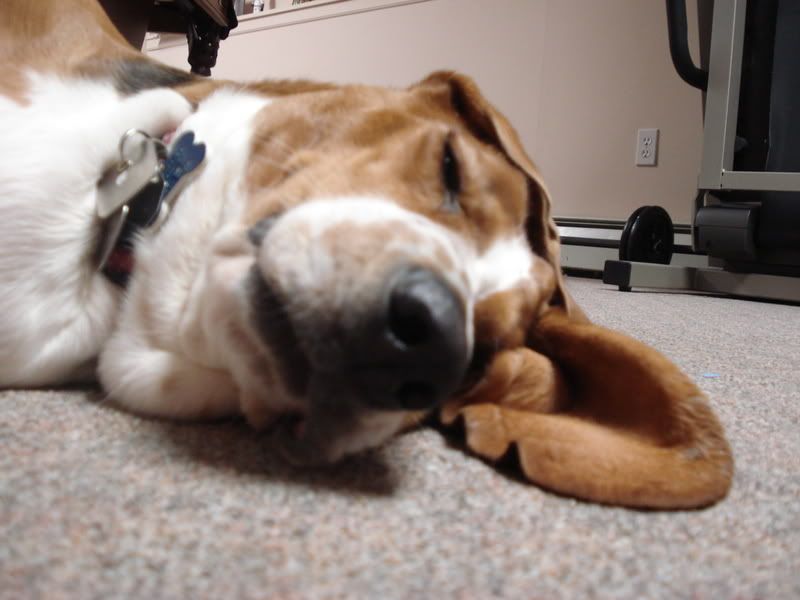 "If I close my eyes will you go away?"
Nope.
posted by Amanda Wheeler @ 1/02/2008 11:13:00 PM, ,


I had to go to court this morning to testify in a child custody hearing.
Not fun.
First of all there was a parking ban in Portland which = major nightmare (thanks to the 10+ inches of snow we got yesterday). I ended up parking in a metered spot several blocks from the courthouse. It's so fun to walk in snow and ice in nylons and slippery shoes. So, so fun.
When I got to the courthouse I
got to
take off my shoes and go through the metal detector. The security was tighter than Logan airport! They searched through my purse, gave me a quick pat down and then I was admitted. Crazy!
I've never been on the inside of a court room before (thank you Lord), but I had an idea of what it looked like -
probably from watching Judge Judy
(I really don't watch it I promise - it was a fluke). It looked normal, I guess. Like on TV. I didn't however prepare myself to see lawyers wearing suits consisting of plaid shirts (I kid you not), printed ties (one guy had wild stallions on his..........
you don't have to be a psychologist to figure out what plagues that guy
), corduroy jackets, and to top it all off LL Bean boots. It was like I was transported back to the TV show set of
Northern Exposure
. It was weird. I felt wildly overdressed in nylons, my long black shirt and a sweater set. I guess I'm not a true Mainer if I don't consider jeans formal wear.
This one lawyer (not representing the person I was there for) kept answering the judges questions with a "Yup" or "Nope" respectively. His client lost. Shocking.
posted by Amanda Wheeler @ 1/02/2008 12:44:00 PM, ,


Andy and I have had almost 5 days off. In that time we have managed to clean the entire house, watch tons of movie (
National Treasure: Book of Secrets
and
Nanny Diaries
to name a few), and complete a "construction" project.
I got new
scrapbooking

storage shelves
for Christmas and we (read: I) decided I wanted to stack them and get a desk top so I could have more room to work. It came out so much better than I imagined and was totally worth the 4 hours of sweat, tears and trips to Home Depot it took to put it together...
Scrapbooking

room before:
Crowded!

No room to work!


After.................much improved!

Everything has a place

Paper sorted by color

Page I'm working on


posted by Amanda Wheeler @ 1/01/2008 01:15:00 PM, ,