::From 1-3pm today I fought with the printer at work. I had to print 75 envelopes and it took me two hours. First their was smudging, then and most annoyingly... paper jam after paper jam. Finally right before I was about to start swinging it started working. I was actually disappointed...I had visions of taking the printer to an
abandoned
field and beating it with a baseball bat like Michael Bolton in
Office Space
the movie. Now that would be satisfaction.
::The vacationers have arrived in Maine. I feel it in my commute and in my temples. Green means go Canadians!
::Primetime TV has gotten so bad we have been forced to watch the National Spelling Bee. It is in HD this year, so at least Andy is happy.
::I love this
salad
from
Panera
. Yum, Yum, Yum!
posted by Amanda Wheeler @ 5/31/2007 07:25:00 PM, ,


I finished the T-shirt template for my Mom's 50th birthday party in July. What do you think? I may try to color it- but i'm not sure yet.
posted by Amanda Wheeler @ 5/30/2007 07:17:00 PM, ,


posted by Amanda Wheeler @ 5/28/2007 12:20:00 PM, ,


posted by Amanda Wheeler @ 5/26/2007 06:54:00 PM, ,


Andy and I celebrated our fourth anniversary last Thursday. It was a very steamy day - highs in the mid 90's. We celebrated by buying an air conditioner and then going out to dinner at the Macaroni Grill. I love that place. They made my day a few months ago when they moved the mushroom ravioli from the appetizer menu to part of the entrees. Yum!
After dinner we watched Shrek 3. It was OK. The movie itself actually malfunctioned in the theater - so it would black out for several seconds. We got free movie passes out of it - so it wasn't a total loss. Andy keeps bugging me to go see Pirates of the Caribbean 3 - but I'd rather be locked in a room full of bees. I really hate movies that are even a hint of scary.
Pics:
posted by Amanda Wheeler @ 5/26/2007 06:34:00 PM, ,


Hodge Podge

Wednesday, May 23, 2007
:: Starting tomorrow I have five glorious days off. It couldn't have come at a better time either. This morning I checked my e-mail at work and had 36 new messages – wow! Today is going to be a long day!
:: I really enjoyed the finale last night. I will be really surprised if
she
doesn't win. The singing wasn't as good as years past, but Randy's outfit was worth the watch (did he get confused and think he was
Michael
Jackson?). It was also fun to watch Paula drool on herself. She must have been on pain killers due to her
stumble
. Never a dull moment on AI.
:: I had a long chat with my Mom yesterday. Her surgery hasn't slowed her down at all. She's working on the flower girl dresses for my sister Katie's wedding in August. I'll have to post them when she's done. She is a fabulous seamstress. I can appreciate that now. Like Laura Ingalls when I was growing up I wanted "bought" clothes like Nellie Olson.
:: Andy's birthday is coming up and he really wants to buy a new boat motor for the boat we inherited from his Grandfather. The boat came with a motor, but it doesn't work. Last summer I watched him fiddle with it everyday until the season slipped away from us. I would love it if we could get the boat going for this summer, but do you have any idea how much a new motor costs?!? I had NO idea – but its several thousand dollars. He may have to settle for some new polo shirts!
:: I LOVE
their
song Anthem, and their whole new
album
. I'm trying to talk Andy into going to the
Generation Rising Tour
this weekend!
I just ordered:
Kiss the Girls and made them Cry
. It came highly recommended from several different people. I hope to use the main points during our purity unit for Youth Group. Are there any other books that are a must read on that subject?
posted by Amanda Wheeler @ 5/23/2007 08:38:00 AM, ,


Andy and I barbecued again tonight as
promised
. It was the perfect temperature to eat outside too, so we took advantage of it. I have an irrational fee of bees (I'm allergic) so we don't eat outside as much as Andy would like. Today though, was one of 5 days out of the whole year where the bugs aren't out yet, but it's still warm enough to enjoy the outdoors. Molly was rather
obnoxious
though. She
whined
, then looked
pathetic
and then
finally
gave up
.
Does anyone
have one of these
? I wonder if they work. Might be worth the investment. I found them on one of my favorite websites:
www.killbugsdead.com
I'm embarrassed to admit it, but I am SO excited about tonight's finale of
this
. I know, I know pathetic. I haven't watched
many
other seasons, but I got sucked into this one while I was home for days with
pneumonia
. That's my excuse and I'm sticking to it.
posted by Amanda Wheeler @ 5/21/2007 05:37:00 PM, ,


::I'm not ready for this week to begin. I have to cram a ton of work into three days this week. Andy and I took off Thursday to celebrate our anniversary and since it's Memorial Day weekend I get five whole days off in a row. I hope to get a lot done at home. I'm organizing my Mom's 50th birthday party this summer (from 2 states away) and my sister Erin and I are working on a chronological scrapbook for her. So much work to be done!
::This lady came up to me in church yesterday and said she had received a vision from the Lord about me. She proceeded to tell me that in her vision she saw me in a hospital bed with a baby in each arm. I didn't really know what to say. To be honest no one has ever "received a vision" about me before and I'm not sure what to make of it (ok - well that's not entirely true - once before and that came "true"). Of course, the desire of my heart is to be a mother but I don't want to read into this too much. How are we to respond when people have visions?
::We have really been enjoying our grill lately. Andy just got our tank refilled from last year on Saturday and Saturday night we enjoyed some delicious steak I had marinated. Yum! Last night we made grilled chicken, and tonight hambergers are on the schedule. I love summer!
posted by Amanda Wheeler @ 5/21/2007 08:06:00 AM, ,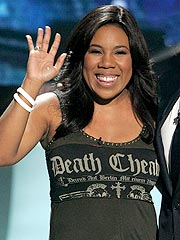 Andy predicted it. He did. He's been saying for weeks that
Melinda would get the boot
and Blake and Jordan would be in the finale. I didn't want to believe him, but it's true. Man, I hate when he's right.
My Mom made it through surgery fine. Thank you to everyone who prayed. She was scheduled to have the more evasive surgery, but they were able to do it laparoscopically (which is smaller and a tiny less painful). She still is in a lot of pain though. I talked to her this afternoon and she sounded like a drunken sailor. Clearly the anesthesia hadn't warn off yet which took me completely off guard. My sisters are there by her side for the next few days. I'm glad about that. She gets 8 paid weeks off from work so she might come fly out to Maine and visit me for a week...which would be lovely.
This weekend is busy, busy, busy. We have youth group tomorrow night, a huge youth fundraiser all day Saturday and then Sunday after church we have a big decorating meeting after church for a summer event at church. Andy and I are going to try and take it easy until then. Tonight is the big finale of
The Office
. We can't wait! Oh, what will happen with Jim and Pam!?!?
posted by Amanda Wheeler @ 5/17/2007 03:12:00 PM, ,


New Layout

Wednesday, May 16, 2007
Update: If you think of it, please pray for my Mom Cindy today. She is having surgery this morning on her galbladder.
New layout is NOT working in firefox. Will work in IE and Safari though - HELP!?!
I can't believe Melinda got booted tonight.
posted by Amanda Wheeler @ 5/16/2007 08:53:00 PM, ,


My Mom is constantly hot. Even in the winter, if you ask her she is officially "boiling". My mother's temperature and mood have changed drastically over the last few years. My mother blames THE CHANGE (she says it in all caps as if it's some sort of flesh eating virus that will surely end in her demise….likely from melting like a snow cone on a hot August day).
For Mother's day my step father Keith sacrificed himself (he has horrible sinus problems) and bought my mom an air conditioner. He installed it when she was at work and surprised her with it. For the first few days she was in love with it (she no longer had to lay ON TOP OF our freezer in the basement). But yesterday she packed it all up and returned it to the store. My step father called me to ask what he did wrong – she had asked for one for years, so why is she taking it back?
My mom convinced herself it was far too expensive to run. The poor guy can't win. Better make room in the freezer again.
How cool is this? Get yours
here
! (you must have a
flickr account
)
posted by Amanda Wheeler @ 5/16/2007 08:30:00 AM, ,


Burr.

Tuesday, May 15, 2007
It's a cold, wet day. I'm freezing and I have a headache. I always get one when it rains. Spring is not a good time for me.
My Father
turns the big -
5o
- today. Happy Birthday Dad! (He reads my blog, he just can't figure out how to post, although I have showed him several times. He can only find my site, because I bookmarked it for him- :)
Andy and I are heading up to Bangor next week to spend some time with Andy's Dad and Stepmom Cathy. Then we're all heading up to Acadia National Park - our favorite place on earth. Andy and I hope to squeeze in a nice dinner that weekend to celebrate our 4th wedding anniversary. Time flies. I can't beleive we're going to be starting our 5th year of marriage.
posted by Amanda Wheeler @ 5/15/2007 10:20:00 AM, ,


Mother's Day roses at
church
. I rolled and tied them this morning. Didn't they turn out nice? I love pink.
Andy and his mom in front of
DiMillos
. We took her there to celebrate the day. It's a big docked yacht that doubles as a resturant. We had a great view of the ocean from the top deck.
Andy's favorite - Lobster club.
posted by Amanda Wheeler @ 5/13/2007 02:48:00 PM, ,


My left ring finger is noticeably naked (can I say that?) these days. Last weekend when we were down in Massachusetts we stopped in at
Descenza's
our jewelry store. Several months ago, while eating Chinese food, I looked down and my rings and noticed that my engagement ring had a split straight down the back. I took it off and found that it went all the way through. Andy nearly choked on his General Gau when I showed him wha
t I discovered. Seconds later I had
Descenza's
on the phone asking how this could have happened. They said I could have stuck my hand in cleaning solution and the sauter could have just worn off. They were very nonchalant about the whole thing; meanwhile I had my head between my knees to keep air in my lungs.
I don't know if I'll ever know why they broke, but I do know that it takes 7 whole days to fix them. That seams unreasonably long, doesn it? So now Andy and I have to make the 2 hour trip back down to Boston this weekend.
Sigh.

This stuff is great
. I've never bought it before because it's $4.95 a box (yikes!), but this week they are on sale 5 for $10 or $2/box. I am now addicted.
I was disapointed with
Blake
last night on American Idol. I was really rooting for him, but I think he's toast tonight. So now I'm hoping that Jordan can pull it off. When she's on her game she's amazing!
Great book
. I don't want to be a Martha.
posted by Amanda Wheeler @ 5/09/2007 05:39:00 PM, ,


I've been really bothered by allergies this year. Almost everyday I wake up stuffed up with a headache right between the eyes. I started
Claritin
this morning, so hopefully it will kick in soon! If not, I may have to go cut down all the trees in Maine. Which would take a while.
Because we weren't feeling well (Andy has allergies too) we skipped a meeting last night at church. We got so much done at home though! I finally unpacked from our Boston trip, did laundry, dishes and even managed to relax for a few hours. It was nice to chill out for a bit.
I also ordered
this
outfit
for my
Mom
for Mothers Day. I looked all over the web for interesting ideas on what to get her, but ultimately I went practical. She is practical, so it works out.
This site is cool though if your stumped
. I especially like this
idea
. Pricey? Yes. But so cute!
Speaking of Mothers -
this woman deserves a trophey! 17! WOW.
It's suppose to get up to 80 degrees today!
posted by Amanda Wheeler @ 5/08/2007 08:22:00 AM, ,


We just got back from our 24-hour trip to Boston. Andy's mentor and former professor Dr. Camp was honored at his retirement dinner last night at Gordon College. We made a day of it. Andy took the day off and we drove down to Boston and tried to fit in as much stuff as possible. We lived in the area for four years, but haven't been back much since moving to Maine. I guess I blocked out the amount of traffic in one tiny little congested area...gross.
Andy with Dr. Camp
posted by Amanda Wheeler @ 5/05/2007 06:58:00 PM, ,


These are my two favorite shows on TV right now, well and
this one
, but i'm sick of talking about that one (except for saying I want Phil back!).
1.
Little People, Big World
2.
Jon and Kate plus 8
You should check them out, both families are Christian families trying to raise their kids.
Also, a few new
pics
on
flickr
posted by Amanda Wheeler @ 5/03/2007 09:54:00 AM, ,


Timing

Wednesday, May 02, 2007
It's funny how He places people on our hearts at the perfect time.
Off and on for the last couple months I've been praying for a woman that went to our church regularly last year. After the new year she seemed to drop off the face of the earth. This happens a lot in church, but this particular woman stuck with me for some reason. I prayed for her for several months and then kind of gave up. Not consciously, but I just didn't think of her often anymore. Last Saturday though, I tossed and turned in bed for hours. I felt that familiar prompting and began to pray for her again. I prayed that God would change her heart and that she would be encouraged to come to church on Sunday. I fell asleep shortly after that and didn't think of it again until I heard her voice in the foyer of our church the next morning.
A few days ago another person that frequented our church from time to time popped into my head. Today we found out that
he passed away last Thursday
.
Our friend Casey, a hurricane Katrina survivor moved into a primarily French speaking building a few months ago. He is fresh off the boat from the bayou, so his first language is French. How handy. His building consists mostly of elderly and people with disabilities. About a month ago he started having daily bible studies in his apartment. There was a gentleman who grew up in Catholosism who starting coming to his study. Last Thursday at the study he gave his heart to the Lord with Casey's help. Friday he went to be with the Lord.
God's timing is amazing. Let us be content where we are.
Eccles. 3:11
He has made everything beautiful in its time.
Psalm 31:15
Hour by hour I place my days in your hand,
safe from the hands out to get me.
posted by Amanda Wheeler @ 5/02/2007 10:39:00 AM, ,


I'm totally making these on Saturday. You may remember -
Andy has been on a mexican food strike
for the last few weeks, but surely
Cinco de Mayo
will change his mind.
Chicken Enchiladas

INGREDIENTS:
4 bone-in chicken breast
halves
2 tablespoons olive oil
1 (4 ounce) can diced green
chile peppers, drained
1 jalapeno pepper, chopped
1 clove garlic, minced
1 (8 ounce) package cream
cheese
2 cups shredded Monterey
Jack cheese, divided
1/2 cup water
8 (10 inch) flour tortillas
1 cup heavy cream
DIRECTIONS:
1. Place the chicken breast halves into a saucepan, and fill with enough water to cover. Bring to a boil, and cook until the chicken is cooked through, about 20 minutes. Remove from the water, and set aside to cool.
2. Preheat the oven to 375 degrees F (190 degrees C). Remove the chicken meat from the breasts, and discard the skin and bones. Set aside.
3. Heat the olive oil in a large skillet over medium heat. Add the green chilies, jalapeno and garlic. Cook and stir for a few minutes, until fragrant, then stir in the cream cheese and half of the Monterey Jack. As the cheese begins to melt, gradually stir in the water. Chop the chicken meat, and stir into the skillet. Remove from the heat.
4. Spoon the chicken mixture into tortillas, and roll up. Place the rolls seam side down in a 9x13 inch baking dish. Sprinkle the remaining Monterey Jack cheese over the top, then pour cream over all.
5. Bake for 30 minutes in the preheated oven, or until the enchiladas are golden brown on the top.
posted by Amanda Wheeler @ 5/01/2007 09:21:00 AM, ,