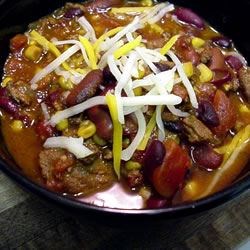 I am not one of them.
Here is "my" recipe for delicious, low-fat, mild turkey chili.
Try it, it's crazy good.
INGREDIENTS
1 tablespoon vegetable oil (I omit this - but it's what the recipe calls for)
1 pound ground turkey, Italian style
2 (10.75 ounce) cans low sodium tomato soup
2 (15 ounce) cans kidney beans, drained
1 (15 ounce) can black beans, drained
1/2 medium onion, chopped
2 tablespoons chili powder
1 teaspoon red pepper flakes
1/2 tablespoon garlic powder
1/2 tablespoon ground cumin
1 pinch ground black pepper
1 pinch ground allspice
salt to taste
Fat free shredded cheese
DIRECTIONS
Heat the oil in a skillet over medium heat. Place turkey in the skillet, and cook until evenly brown; drain. Coat the inside of a slow cooker with cooking spray, and mix in turkey, tomato soup, kidney beans, black beans and onion. Season with chili powder, red pepper flakes, garlic powder, cumin, black pepper, allspice and salt. Cover, and cook 8 hours on Low or 4 hours on High.
This is my next mission:
Simple Beef-A-Roni with Peas
. I'm so thankful for people who take the time to make Weight Watcher recipes and post them on
their site
. It saves me so much time having to do the math. I hate math.
posted by Amanda Wheeler @ 11/30/2007 12:07:00 PM, ,


It's 50 degrees out and I'm listening to
Christmas
music
. We put our tree up on Saturday and it was warm and sunny. Where am I?
Plans are in motion for full blown Wheeler Christmas this year. Andy's Mom, Step-mom, Dad and (maybe) Aunt & Uncle are coming for Christmas. Hurray! I'm already plotting and planning menus, extra stockings (surely I have time to whip up a few handmade ones, right?) and gift buying. I'm being purposeful to not lose focus oh why we celebrate though.
Sunday we spent the afternoon with the Odomites and enjoyed pizza from
Flatbread
. Yummy.
We also carried on the tradition of making gingerbread houses
(2x surely means "it's a tradition", right?). They blew us out of the water again this year on structural integrity, neatness and overall creativity. Oh well, maybe next year.
For more pics go here:
posted by Amanda Wheeler @ 11/27/2007 01:28:00 PM, ,


We had a really unusual Thanksgiving. Andy's parents are down in VA
visitng
the
grandbaby
, so we were on our own this year. We spent the day serving at the local Salvation Army and then had a DELICIOUS meal with friends in the evening. Here are a few pictures from our day:
We made the paper! Well little Joshua Samuelson from The Rock did!
posted by Amanda Wheeler @ 11/22/2007 10:48:00 PM, ,


First Snow

Tuesday, November 20, 2007
It's snowing. I have a mix of excitement and despair. I really don't like the inconvenience of it, but it
is
pretty coming down. I do suppose it's time to put
these
away in exchange for something
more sensible
. Hmph.
In honor of the white stuff I've decided to torture the dog with a little photo opt.
I call this line "The Reluctant Reindeer"
"Ok, it's on. Can I have my bone now?"
"Woman! Bone. Now"
"Ohh.. I can taste it"
"White flag. I surrender. Get it off of me."
posted by Amanda Wheeler @ 11/20/2007 11:02:00 AM, ,


This past Sunday our church was "Church like you've never seen it". We cleared out all the chairs, set up tables, and stuffed boxes (Santa's elves style minus the tights) for
Operation Christmas Child
. We were able to stuff over 210 boxes for needy children all over the world!
We almost doubled our boxes from last year
! Praise God!
I'm so thankful to be part of a church that loves to serve.
Big pictures here.
posted by Amanda Wheeler @ 11/20/2007 08:46:00 AM, ,


Oh by the way, I forgot to mention my Father-In-Law lit the
Thanksgiving
candles with a blow torch yesterday.
So proud to be a Wheeler.
posted by Amanda Wheeler @ 11/18/2007 03:34:00 PM, ,


Today we trekked up to Bangoria for our second Thanksgiving celebration. We drove up with Andy's Mom and Aunt Carol to see Barry and Cathie (Andy's Dad and Step-mom). It was SO nice not to cook this year. Barry prepared most of the meal. Check out his turkey:
Stuffing
inside
the bird. I'm impressed!
Ok, off to bed. BIG day tomorrow.

posted by Amanda Wheeler @ 11/17/2007 11:09:00 PM, ,


(FYI: this blessing countdown is in no particular order)


I'm thankful for my big family! 5 sisters and 2 brothers (not to mention

BIL's

,

SIL's

,

nieces

, nephews and 33 first cousins).



Jason




Eldest child (my step brother). Living in South Carolina with wife Nicole and one-year old son Mason. Don't get to see Jason much.




Becky




My sister (step) Becky is closest to me in age. We were

BFF

growing up. She and her husband have lived all over the US because of the ARMY. Most recently they were in Texas for four years before moving back to the North Country to be closer to my parents. Becky has two children

Jaslyn

(see below) and Lucas (see above).



Heather

Heather is next. She's had a year of big changes. She graduated from

SUNY

Potsdam with a degree in teaching, got married in September and had little

Alannah

(right).




Jamie



Jamie went a mission trip to Bolivia last year. She's now

waitressing

at the restaurant in our little town (note "the" restaurant, not "a"restaurant"...we have but one).



Erin

Erin (seen here with frank) is in grad school for

psychology

. She wants to be a school guidance counselor. I'm rooting for her. Frank

finally

popped the questions this year so it's full speed ahead to the wedding on August 16

th

of 2008. Andy and I are making the

slide show

for the wedding and because Erin was born with the same type A

personality

that I was she has already sent me all the pictures, labeled and

alphabetized

. I adore her.




Katie




Katie grew up a lot this year. She got married to Eduardo (Ed), actually Edward, but everyone calls him Eduardo or Ed or Eddie. Anyway... So Katie and Ed got married on April Fools Day and then they moved to Georgia where it is hot. Much hotter than Northern New York. They seem to like it down there. Although I know Katie misses home. We talk almost everyday. She always makes me laugh - we are so much alike.




Danny




Danny (here with Dad) is turning 14 this year. He is almost unregnozable to me. He is all teenage boy now. It's weird. I wish we could see each other more.

posted by Amanda Wheeler @ 11/16/2007 12:59:00 PM, ,


Our
home group
celebrated Thanksgiving together this past Tuesday. It was sort of like potluck Thanksgiving. Mashed potatoes (no lumps) and corn were our contribution. We are so thankful for this group. We meet every other week on Tuesday to share a meal, encourage one another and pray for each other. What could be better?
The star of the evening.

Buffet line

Danielle and Samantha. I adore them.

Alexis (who refused to smile but gave in at the last moment) and Danille (freely willing to smile).

Oye. This is so not Martha.
posted by Amanda Wheeler @ 11/15/2007 09:01:00 PM, ,


Update

Wednesday, November 14, 2007
Blogging has become a chore. It's always on my to-do list, but it doesn't get done these days. Luckily our season of (extreme) busyness is somewhat dying down. This Sunday is the last class for
Every Young Woman's Battle
. Great class. Great girls. Lots and lots of prep time. I'm so thankful for what the Lord has done during that small study. I can see hearts and actions change. I, however never expected to get alot out of a study on purity but I did. Being sexually pure doesn't end when you say "I do". What will He show me next I wonder???
I've spent several afternoons this week listening to
these sermons
(scroll down) on Biblical Womanhood (and Manhood). This
guy
knows what he's talking about. This topic has been of particular interest to me lately because I have been acutely aware of the fact that our marriage is under a constant microscope (ok well that may be a
tad
dramatic). My parents who are unbelievers are watching and waiting to see how we handle situations thrown our way and the teens look to us as a model of Christian marriage. Something they don't always see at home. No pressure..
Sermons here at
The Rock
have been about
Unity
. Unity of believers, unity in marriages. We are listening Lord...
Help us to be United in all we do.
- - - - - - - - - - - - - - - - - - - - - - - - - - - - - - - - - - - - - - - - - - - - - -
We got the
privilege
of watching a four year old last Friday night. I was a little nervous about how she would do sleeping in a strange place, but it was me who had the trouble. I tossed and turned all night worried I wouldn't hear her if she cried. Which by the way, she didn't. We read Veggies and a few chapters of Charlotte's Web and poof...asleep. Surely that doesn't always happen, right?
In the morning we made pancakes. Pink for girls and green for boys (I ran out of blue food coloring).
Lilli mixing the batter.
Mmmm. Nothing like a pepto pink pancake.
I look tired because I am. How do people do this all day long?
Just a crumb. That's all I ask. Oh please.

You can't buy these at a diner.
posted by Amanda Wheeler @ 11/14/2007 03:23:00 PM, ,


Lipstick is great, but wait 'till this little girl finds out about
foundation
!
Godtube. Check it out!
posted by Amanda Wheeler @ 11/07/2007 12:24:00 PM,


Mascot

Tuesday, November 06, 2007
What is it with me and mascots? I attract them like moths to a flame.
Me and "Crackers" from the
Portland Pirates
Me and Rover on any given Sunday at
The Rock Church
(well granted, I am
married
to Rover).
It's been a busy month and we're only 6 days in. On Friday and Saturday we took the teens to WOL Superbowl. It's an extreme fun, ALL night long event put on by Word of Life out of Scroon Lake, NY. Four of "our" kids came to Christ on Friday. God is really moving in our youth group and through Andy and I. We're just holding on for dear life.
For pics from
WOL Superbowl click here
....well, the
big ones are here
.
These overnight things are killing me though. We've had two almost back to back and the bags under my eyes are proof. Bedtime has been moved from 11pm to 9pm effective immediately.
posted by Amanda Wheeler @ 11/06/2007 02:10:00 PM, ,